To foreigners and local travelers alike, the Philippines may sometimes be an intimidating place to travel to. Firstly, we have a total of 7,641 beautiful islands. Secondly, the 81 provinces and several cities have their respective sceneries, food, and cultural practices to offer. Luzon island group alone (where I originated) have so much to offer, and it is the island group closest to Metro Manila, where almost everyone will land if coming from other countries. Since I am a frequent traveler to the Luzon area for both business and pleasure, let me provide you with the top 10 accommodations which you can consider while exploring the beautiful island group of Luzon (in no particular order):
1. Fil-Dane Inn, Aurora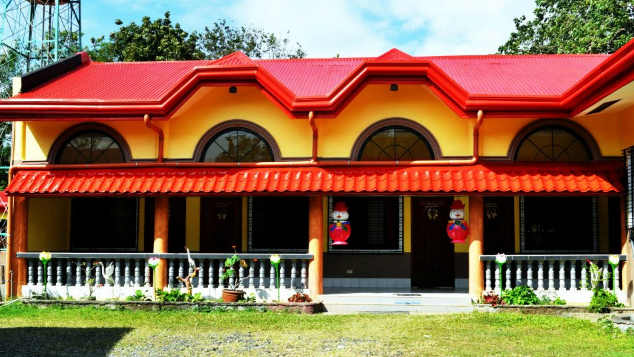 Situated in the quaint town of Dingalan in Aurora, Fil-Dane Inn is a good choice for accommodation when visiting the said town because it is near the transportation terminal, public market, the church, restaurants, and the tourist information center, among others. It is a Green Hotel which advocates for preservation of water and energy. How environment-friendly, right? Also, their rooms are super clean, spacious and affordable. They also offer a tour package which will take you to both popular tourist destinations and off-the-beaten paths in Dingalan. You can book your accommodation at www.fildaneinn.com.
2. The Circle Hostel, Zambales
The town of San Felipe in Zambales is popular for surfing and it is best to go there between April and September where the waves are at its best. Circle Hostel  is a basic and hipster-ish accommodation that is popular for millennials. It has a very comfortable kubo-style rooms and a very creative and colourful design. They also offer group activities like a campfire night and island tours.
3. Azzurro Hotel, Pampanga
I have stayed here twice, both for business trips. I highly recommend this for a staycation as well because this hotel is relatively newer in the Angeles City area and the rooms are spacious and comfortable. The food they serve is also great, especially the breakfast. The rooftop pool is the best and they have sauna and gym! Also, there is a buffet Japanese restaurant just across the street and a dessert shop right beside the hotel. You're welcome!
4. Lewis Grand Hotel, Pampanga
Located along the strip of hotels along Friendship Highway in Clark, Lewis Grand Hotel is very noticeable because of its super white and elegant façade. It has a good view of the Clark area and the rooms are nice and spacious. They have a jacuzzi and a big pool with a bar (yes, and it was nice!). It is also a short jeepney ride away from SM City Clark and Duty Free Clark.
5. Las Casas Filipinas de Acuzar, Bataan
Staying in this magnificent place is like traveling back to the Spanish and American colonial eras of the Philippine history. The rooms are super huge, and you gotta experience how elegant the way of life is during those periods – the super huge bathrooms, the high ceilings, and the queen-sized beds. Every part of this place is Instagrammable, just wear your best heritage-ish #ootds.
6. Juness Beach Resort, Bataan
Morong, Bataan is an underrated beach (and even surfing) destination in Luzon and therefore resorts in this area are never overcrowded. During my stay at Morong, Bataan, I had the chance to stay at Juness Beach Resort and they have the best beach area: the sunset view is the best and the sand is not white but very fine and smooth. The staff at Juness are also the kindest and the best.
7. Monaliza Surf Resort, La Union
San Juan, La Union is very popular as a surfing destination in Northern Luzon and looking for a good accommodation here can be difficult and intimidating considering that the town gets too crowded especially during long weekends. Monaliza Surf Resort is one of the pioneer resorts in San Juan and the beach area right in front of it is where the waves are the best. The sunset view in this part is just spectacular. The rooms are basic but very clean and homey. They also have a bar (Le Point) and a restaurant (Barefoot) which serves good food.
8. Mayon Backpackers Hostel, Albay
Legazpi City is known for the famous Mayon Volcano, and the city is progressive but still maintains its provincial vibe. I travel to Legazpi frequently and the reason why I keep on coming back is because the city is safe for women traveling alone. Mayon Backpackers Hostel is a good accommodation because it is situated at the heart of the city and the staff are the best. It is like staying at the comfort of your own provincial home and every part of it is well-maintained.
9. Parang Beach Resort, Oriental Mindoro
You can ditch the more popular Puerto Galera for Calapan City because this city also has a lot to offer. Parang Beach Resort is like your typical homey resort in the province and there are rooms that are house-like villas with attics which are perfect for a slumber party. Their restaurant serve good food and the view of the sea from the resort is great.
10. Baguio Village Inn, Benguet
I consider Baguio Village Inn as one of the cheapest but best accommodations in Baguio City. It is located along Magsaysay Avenue and tourist destinations are one jeepney ride away. The rooms are very homey and comfortable. It has common bathrooms but they are clean and well-maintained. Since in some times of the year the temperature of Baguio drops, there is no need for an AC.
–
Sure, Manila also has a lot to offer, but it won't hurt to consider nearby places in Manila to check out the beauty of the Philippines. These places to stay I recommend are the ones where I had the best experience both for a staycation and resting after a long day of doing some activities in the town they are situated. So what are you waiting for? Plan your Luzon itinerary and book your accommodations in these places! Just message me on Instagram if you have further questions. Happy traveling!